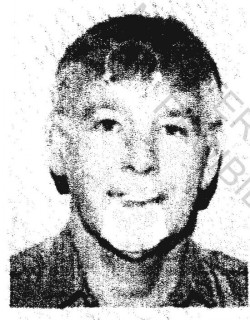 Hunt at Black Rock
The News of the World
Ross Hall & Carole Aye Maung in Praia da Luz, Portugal
6 May 2007

POLICE hunting for missing Maddie McCann have dramatically widened their search to an extinct VOLCANO, the News of the World can exclusively reveal.

Teams of officers with sniffer dogs were last night scouring what one called a "sinister" area called Black Rock near sea cliffs just over a mile from the resort where the youngster was snatched on Thursday.

The search was widened as the detective leading the hunt claimed they had a good idea who the kidnapper was- and that he believes Maddie may still be ALIVE.

A source close to the Portuguese investigation also told the News of the World that the abductor is believed to have spent days watching Maddie and staking out the McCann family's apartment at the Ocean Club resort in the seaside village of Praia da Luz.

Meanwhile more than 500 British tourists, expats and locals have joined in the ongoing search for the blonde youngster along a six-mile stretch of the coastline.

Last night-48 hours after Maddie was snatched-that search shifted to Rocha Negra-a remote area feared by the local community and an ideal hideout.

Furriel Louis Costa, one of the policemen involved in the search, told us: "You would call it Black Rock. It is a very scary and chilling place. The local Portuguese people do not like to go up there. They are too frightened.

Captive

"It is very big and extends high up above the sea which makes it seem very threatening. You can go up there. But no one ever does. It's not a nice place. It is sinister."

He spoke as hopes rose that Maddie might be alive and held captive following a statement earlier in the day from the head of the investigation, Director of the Judicial Police Guilhermino Encarnacao who hinted that they KNOW the kidnapper's identity.

He said: "There is a prime suspect and we have a portrait sketch of the suspect.

But I am not going to reveal it because it may put the girl's life in danger. We believe that she is still alive and still in Portugal."

More than 150 police officers have been drafted into the area-and yesterday British detectives from the McCann's home county of Leicestershire flew in to join the hunt which also took in the Boavista golf course, again a mile from where she was abducted.

All ports, airports and borders have been put on high alert for any sign of the missing tot.

Maddie disappeared from the Ocean Club in the Praia da Luz resort of Portugal as her doctor parents Gerry and Kate McCann, both 38, ate in a restaurant 50 yards away.

They had chosen not to use the babysitting service provided by holiday company Mark Warner and instead were checking on her every half hour as she slept between her two-year-old twin brother and sister, Shaun and Amelie. A police source last night told us the kidnapper must have KNOWN there was no babysitter in the apartment-and could have been watching the family's movements for days.

He said: "It wasn't just coincidence that this person took her while her parents were out. They would have been watching and waiting and picked the ideal time to take her without disturbing anyone or raising any attention.

"They were only yards away and could see the balcony to the apartment but whoever took Maddie went through the front window which would have been out of sight."

Some sources in the area suggested last night that Maddie may have been snatched by a Russian or Eastern European gang to be sold for up to Pounds 250,000. Police are also investigating a British businessman's revelation that he spotted a couple carrying a young child just hours after Maddie disappeared.


Liverpool-born

George Burke

told cops he saw a couple carrying a young child at around 6am, seven hours after the abduction, as he drove home from nearby Lagos.


When his headlights lit them, he said they "scurried down a side road and out of sight".

Yesterday the News of the World joined the search for Maddie by putting up and handing out large posters calling for help in tracing the youngster to the masses of volunteers turning up to join the hunt.

Manchester man Dave Shelton, 38, who lives in the village and is co-ordinating the local searchers, said: "People have just been coming and coming. The response has been fantastic." Last night Maddie's distraught extended family gave us a series of loving pictures of the happy tot-who was conceived with the help of IVF treatment-at her home in Rothley, Leicestershire, as they prayed for her safe return.

Her aunt Philomena McCann, 54, said: "It's great to have some hope from the police-but we need something to happen. We want her back. We need to keep strong, for everybody's sake."

Maddie's great uncle Brian Kennedy (pictured left), who lives in the same village as the family, told how Gerry and Kate had already planned her fourth birthday party next Saturday before leaving for Portugal.

"We asked a friend to make her a Dr Who cake. We've told her to carry on making it. We have to think for the best."